Where Colorado Springs goes for Therapeutic Deep Tissue
At Camino Massage Therapy, we believe in giving back
One of the core pillars here at Camino is giving back to our community. We donate 20% of our profits to local non-profits and organizations. Your support helps us support those around us- we couldn't do it without you! Thank you from the bottom of our hearts for partnering with us to serve Colorado Springs.
What massage can do
Massage has the ability to break up scar tissue caused by injury and repetitive use. By doing so you can increase range of motion, reduce muscle tension and reduce the occurrence of chronic pain. We use a combination of Neuromuscular Therapy, Myofascial Release, Trigger Point Therapy, Sports Massage, & Stretching to give you the best massage you've ever had. Not only will you experience less pain and more function, but you will leave in a state of deep "Camino Bliss".
Camino Massage is an award winning massage business
We've won Silver in the Colorado Springs Gazette's Best of The Springs in the  "Best Massage Therapist" category in '15, '16, '17, '19. We've also won Silver in the Colorado Springs Independent's Best of the Springs in the "Non-Traditional Health Practitioner" category in 2015 and  2016.
Camino is a Spanish word that translates to, "the way, the path, the journey."
We offer an array of therapy services and massage in Colorado Springs to both new and current clients alike to help remedy those persistent pains that are due to previous injuries, overuse, tension, strain, and stress. It is our passion to help lessen and eliminate that unrelenting pain and discomfort people are convinced will be part of their lives forever.
We are excited to welcome you to our modern, clean, and calming haven. Thank you for choosing Camino Massage Therapy for your next massage in Colorado Springs!
Team Camino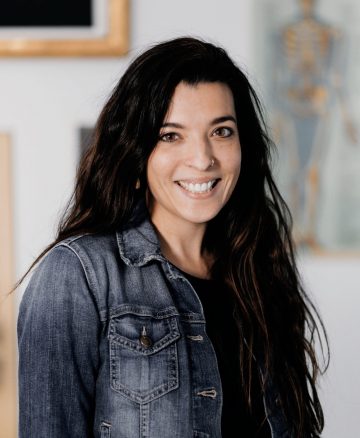 Erin is a Southwest native, growing up along the coast in the most southern tip of Texas. At age 19, she began her career studying massage therapy in Austin, Texas, earning her Massage Therapy Diploma in 2002 followed by multiple certifications including becoming a Certified Neuromuscular Therapist and Certified Ashiatsu Therapist and in 2008, obtained a Bachelor of Exercise Sports Science at Texas State University in San Marcos, Texas. Erin combines Therapeutic Deep Tissue Massage, Myofascial Release, Neuro Muscular Therapy, Trigger Point Therapy, and Ashiatsu Massage to release muscles and myofascial tissue to restore range of motion and decrease pain.
Erin Poovey
Owner / Massage Therapist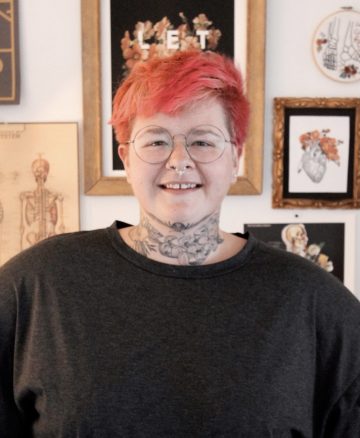 Jaimee is a Colorado Native. She graduated from the Colorado Institute of Massage Therapy where she received 850 hours of training in Neuromuscular and Trigger Point therapy. She uses intuitive touch, stretching and joint movement to provide the best possible care. On her off hours, you can find Jaimee at the gym, practicing yoga, or exploring beautiful Colorado.
Jaimee Schaefer
Massage Therapist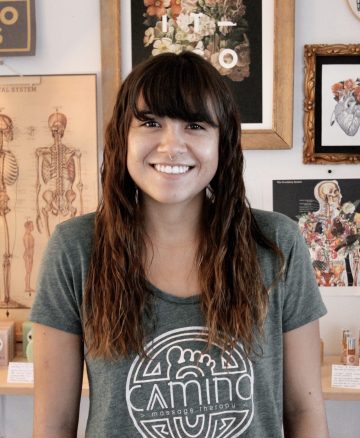 Katie graduated from The Denver School of Massage Therapy and has been practicing massage for about 3 years now.  She enjoys doing deep tissue and trigger point work and she loves that she gets the chance to help people feel at their best through touch. In her spare time she loves to be outside, rock climbing, hiking and doing yoga.
Katie Meyer
Massage Therapist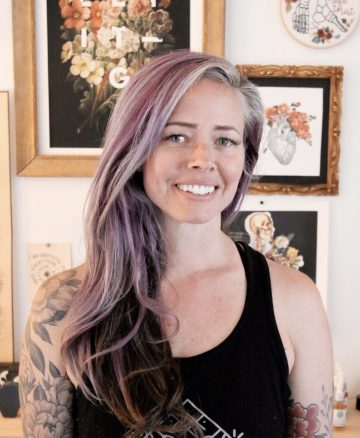 Jennifer grew up in Upstate NY and has been residing in Colorado for the past 16 years.  She graduated from the Colorado Institute of Massage Therapy in 2007 with 1150 hours and a focus in multiple modalities including a certification in Neuromuscular Therapy.  She has practiced Massage Therapy consistently for the past 15 years.  She has an intuitive sense that helps guide her to decrease muscle tension in the body and create a more homeostatic balance.  Along with a passion for Massage Therapy she is also a Licensed Esthetician and holds a Bachelor's Degree in Accounting.  When she's not working she loves traveling.
Jennifer Schroeder
Massage Therapist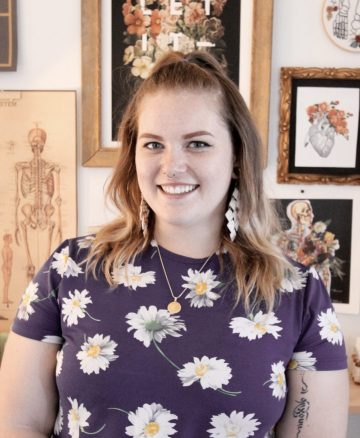 Mace graduated from the Colorado School of the Healing Arts and has been practicing massage for 5 years. She attunes to the body's wisdom; intuitively following body patterns with her slow and deep myofascial techniques. She loves including her specialty in cups to provide a deeply relaxing and therapeutic experience. In her free time she likes camping, hiking, practicing kundalini yoga, and hanging out with her little one.
Mace Steeves
Massage Therapist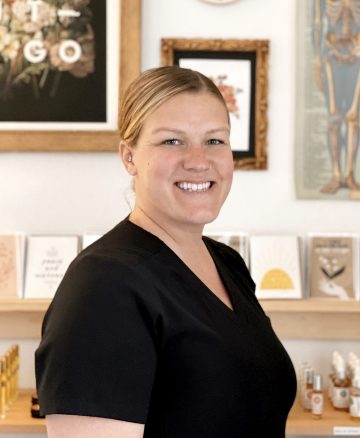 Laura grew up in Chicago but has been residing in Colorado for two years. She graduated from the Colorado Institute of Massage Therapy in December of 2021, with certifications in Neuromuscular and Trigger Point Therapy. She loves to incorporate multiple modalities including cupping, hot stone, and myofasical techniques into her massages. In her free time she loves trail run, travel, camp, and spend time with her pups.
Laura Spadoni
Massage Therapist
Great Experience
Wow! What a great experience here. I came in last minute based on a beaming recommendation while visiting Colorado Springs for work.

I was in so much pain from standing and presenting 8 hours a day for the past six weeks and I was doubtful anything would help. However, I saw Lindsay, who was truly a miracle worker!!!

I explained how I was feeling and she went to work. I could feel her really working on my trouble areas and I walked away feeling refreshed and without pain in my back and feet. I've had massages all my life at various locations (from luxury spas to at home), and I have never had such a reenergizing experience. I still feel like a brand new woman. Thank you!!!

My only regret is that I don't live here and can't come back every week. However, if I'm ever back in Colorado, I will add this to my list!

PS- the owner, Erin, is phenomenal and from what I hear gives pretty epic massages as well!
Well Worth a Trip
If you've got muscular pain issues – it's well worth a trip to see Erin.  She's a skilled massage therapist with a great touch – way beyond the 'fluff' and into the deep, where when you climb off the table you know that something significant has been accomplished.

I worked with Erin both professionally and as her client. She's possesses excellent knowledge of the body and does a great job acquainting herself with each client's specific needs, and then following up on subsequent sessions to make sure that all problems are addressed.

I'm absolutely a believer that a quality massage therapist is a valuable member of anyone's health-care 'team' – an athlete, weekend warrior, and 'average joe' can all reap the benefits of Erin's expertise!
Guarantee They Will Not Disappoint
Camino Massage Therapy is the only place I will go for a massage. Their combination of knowledge, professionalism, and hospitable disposition makes for an environment that is not only comfortable, but will also instill confident in your decision to choose there. I have been going to Hannah for about a year now and she truly is a rockstar. As an Olympic hopeful in wrestling my body gets destroyed on a daily basis, and she is definitely one of my keys to putting it back together. Whether it is an old nagging injury, a new injury, or a last second appointment, Hannah truly amazes me with her ability to communicate and listen to what I need. My schedule involves me traveling nationally and internationally on a monthly basis, but I make sure that when I am home I make an appointment with Camino Massage Therapy. Every time I walk out of there I truly feel like a new man, I guarantee they will not disappoint!
FIND US FOR YOUR NEXT MASSAGE IN COLORADO SPRINGS
ADDRESS
1045 Garden of the Gods Road, Suite J
Colorado Springs, CO 80907