Cryotherapy can be either a local or whole body use of "cold" treatments. Cryotherapy can be used to treat many different ailments including pain, autoimmune disorders, anxiety, depression, improved athletic performance, overall health and well being and more importantly, can reduce inflammation within the body.
Sounds pretty cool right? It's Science!
We took some time to go over to Goosebumps Cryotherapy to see for ourselves what the hype was about.  At Goosebumps they offer a couple different modalities of Cryotherapy. They are most known for is their Arctic Silver- single person cryo-chamber. Goosebumps is the only place here in Colorado Springs where you can get the full body experience, that's right; head to toe. The only place in the springs where you'll enjoy your cryo session in privacy. Donna, Deb and the other staff at Goosebumps are extremely professional and courteous. Their space is cozy and inviting. It was so nice to sit by the fireplace in the lobby and relax a bit before our sessions. For only being open since December 2017 they have amazing reviews and now we know why. We asked Donna and Deb a few questions to give our clients a better understanding of this "cold" treatment.
.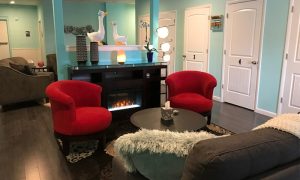 1.How can Cryotherapy help our clients? What are the benefits of it going along with massage therapy?
Cryotherapy is an excellent way to decrease inflammation within the body.  It is essentially simulating your body's own ability to heal it's circulatory, nervous, and energy systems. The treatment leaves you in a more positive mood, improves your sleep and feeling less exhausted. It has benefits for your massage session also!
They recommend doing Cryotherapy prior to a massage session because it's ability to decrease the inflammation allows your therapist to have access to your muscles more efficiently. You can also hit the chamber post massage as your circulatory and nervous system is already stimulated. Either way is a win in our book!
2.How quickly will someone recognize results are happening?
Instantly you will feel the difference within your body. After your initial 2-minute session, you will come out relaxed and clear-headed, allowing you to have a good nights rest. You will truly begin to retain the results after a few sessions.
3.What other modalities are offered?
The penguin is used for spot treatment. If you have an area of the body that needs a little extra TLC or you want a little more time specified that one region you can. Also offered are Cryo facials. They specifically target the face and scalp.
Not only did we get the opportunity to chat with these wonderful ladies to find out some great information, we were able to get the whole experience ourselves! Ryan and Erin went through step by step so you'll know what to expect. We filled out a brief intake form about our health history and had our blood pressure taken. After that, they took us to a private changing room where we put on a spa towel, socks and booties and a super cozy robe.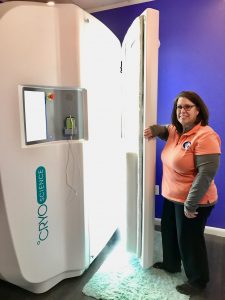 That room then lead into the Cryotherapy chamber room (with the lovely Donna) The room was extremely private with a sense of calm. There we were given ear muffs to put on and a balaclava for our faces.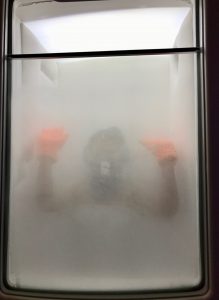 Were we a little intimidated? ABSOLUTELY. Donna and Deb made the experience way less worrisome. We both took our turns in the chamber for two minutes. Erin was up first hitting -160 degrees…that's right…brrrr!! They put on some reggae music to keep her moving, and oh did it help. The screen in front showed the time remaining and the process that was taking place in our bodies… She made it!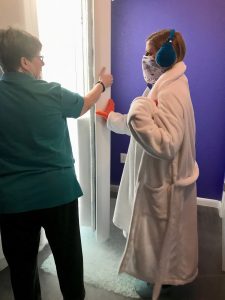 Then it was Ryan's turn, hitting about -190 degrees. The music sure did help. The first minute and thirty seconds were a breeze, the last 30 seconds were a mental game of focus…but she made it also!
After we felt relaxed, clear minded and a bit sleepy! Our bodies didn't have a clue as to what just happened, were we cold or hot?  We were tingling without a doubt. As we got out they wrapped us in a heated robe (making it all worthwhile)  and back to our private rooms we went.
.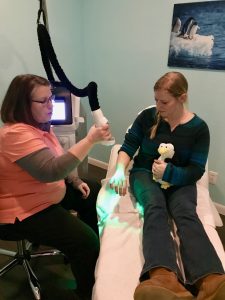 After changing, Ryan hopped into the chair to try the penguin. First trying the spot treatment on her forearm. We love that a spot treatment is an option for those specific injuries! Great for strains, arthritis, acute and chronic injury spots. A really neat thing about the machine is that the color allows the technician to know the temperature of your skin so there isn't prolonged exposer.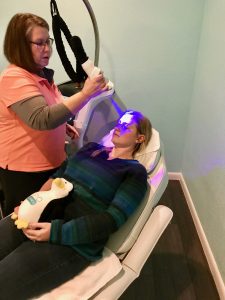 Ryan tried the facial. It was so relaxing. A Cryofacial increases our natural production of collagen. Some clients will get a facial after having their makeup done for a big event. The treatment closes pores and tightens the skin so their face is on point. They have also had great results with people coming in specifically to treat headaches and migraines.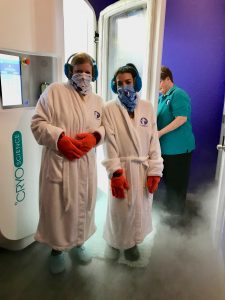 In the end, how did we feel about the experience? WE ARE IN LOVE! We cannot wait to spread the word about this very therapeutic modality. We feel like our clients are going to love it just as much as we did. Don't wait, go now. They are currently running a few specials for first timers so take some advantage and treat yo' self!