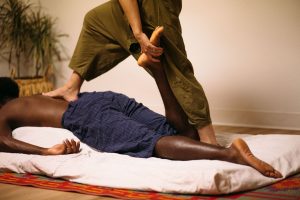 Want to know if Sports Mat Massage is for you or interested in learning more about what it is? You're in the right place!
A sports massage can help athletes recover after games, practices, and workouts and also help prevent injury by keeping muscles from becoming too restricted. A sports massage at our Colorado Springs massage clinic will include deep compressive work combined with stretching and active range of motion techniques to loosen restricted tissue and communicate with your nervous system to retrain movement patterns.
Sometimes called sports mat massage, these sessions are performed with the client fully clothed, lying on a mat. We use a combination of Thai, Fijian, and Ashiatsu massage techniques along with stretch therapy and dynamic cupping during the session. The therapist may use both hands and feet to provide the sports massage. Every session includes a movement assessment so we can provide targeted massage therapy based on the client's needs and sports participation.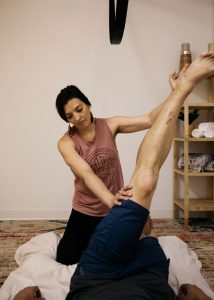 What is Sports Mat Massage?
Sports massage helps support the muscle systems and joints that are used in a particular sport. Massage therapy has become recognized as an important component of many sports training regimens and is used to heal overused and stressed muscles and tissues, promote injury recovery, and prevent injury from ever happening in the first place. It is particularly beneficial for supporting the health of muscle-tendon junctions for improved range-of-motion and provides psychological benefits to athletes as well.
A specially trained sports massage therapist will use firm, repetitive strokes to target the muscles most used in the sport and most in need of release and recovery. Typically, a sports massage will focus only on the area of the body that is impacted by the sport to maximize performance and recovery, but because we utilize our feet we are able to address your whole body.
Every sports massage at our Colorado Springs massage therapy clinic is customized to the individual based on his or her preferred activity  and need.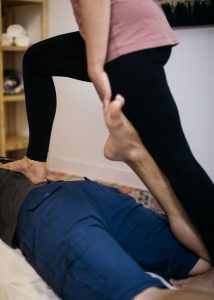 Who benefits from Sports Massage?

Sports massage is suitable for athletes at all levels of skill and participation from weekend warriors and school athletes to pro- and semi-pro athletes. Although its called a "sports" massage it's beneficial for relieving aches from all types of activities including yard work, hiking, and physical repetitive labor. It's also extremely beneficial for those feeling less ease of movement in their bodies.
Benefits include:
improved joint range of motion (ROM)
increased flexibility
decreased muscle tension
reduces chance of injury
reduces recovery time
promotes relaxation and calms nerves
can help decrease muscle spasms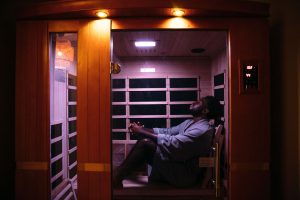 Sports Mat Massage Customizations Available:
We offer several customizations to deepen your massage experience and provide additional benefits, including:
Dynamic Cupping
Fascial Blading
Heat Packs
Hot Towels
Dynamic Stretching
Infrared Salt Sauna ($15 for 20 minutes pre massage)
.
Schedule your Sports Mat Massage today by clicking the "Schedule" link on our Home Page!