Does your loved one love chocolate? Why not go a different route and give them healthy chocolate. This box of happiness is perfect for a Valentine's Day gift. This premium assortment contains their cherry hazelnut, coconut cardamom, orange heat, pomegranate rose, 80% Dominican Republic, and No MOO Mylk classic hearts. Not to mention they have free delivery! Free local delivery code: FREEDELIVERY Zip codes included: 80903,80909,80810,80829
https://radiantlyrawkitchen.com/shop/valentines-day-premium-truffle-assortment-12-pack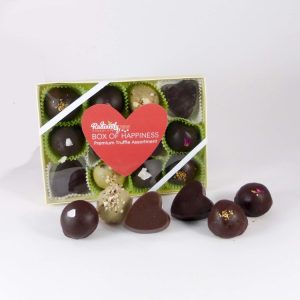 2. Give your special person something that will last longer than cut roses. Get them a stunning cactus from the Cotton Club in Manitou Springs! You can find them at 1 Ruxton Ave. She will love this idea!
3. Sasquatch Cookies are to die for and we think you and your person will fall for them also. Their ingredients are full of all the good stuff and none of the bad, which makes them extra delicious. Not to mention, they donate 10% of every purchase to a feeding project! Right now they are featuring special cookie boxes just for love day so head on over to their website and check them out! https://www.sasquatchcookies.com/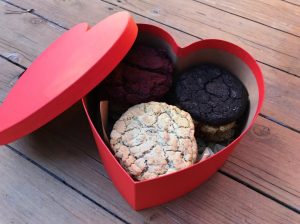 4. SunWater Spa in Manitou is a great way to spend some quality time together in a relaxing atmosphere. You can soak it up in their mineral water cedar pools. You can pay $35 to spend the day or $25.00 for two hours. They even offer a private soaking pool for a special rate.
https://www.sunwellness.net/sunwater/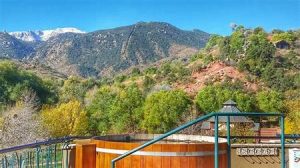 5. All about taking in an experience? Bundle up and get outside. Go on a short hike to just be with yourselves. You live in one of the best places to make it happen, We say take advantage of it and go find an adventure to embark upon together! Some of the most scenic and short distant hikes around are found at Garden of the Gods, and North Cheyenne Canon park (Mt. Cutler trail pictured), Red Rock Canyon. There are so many beautiful places right here in our backyard.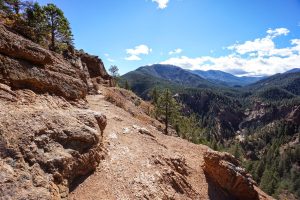 6. And of course, we can't forget about a massage from Camino Massage Therapy. Let your love know how much you care by letting us take care of them. Buy a 60 minute or 90 minute massage gift certificate and we'll include some Passion bath salts. The smell is an inspiring blend of spice and herb essential oils that will help you rekindle excitement, joy, and love in your life. You can purchase online a www.caminomassage.com  or give us a call at 719-299-0820.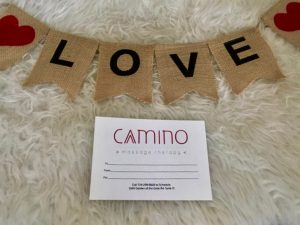 We hope you have the best Love Day ever, it's all about spending time with ones you love and showing them just how much they mean to you.
With tons of love,
Team Camino