Ryan Lettbrown CNMT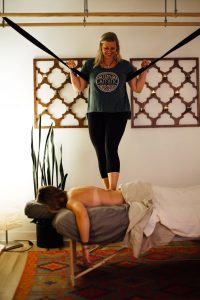 How long have you been practicing massage?
I've been practicing for almost 8 years!
How long have you been massaging at Camino?
5 amazingly, beautiful years!!
What first drew you to becoming a massage therapist?
After being in a pretty bad car accident in Georgia, I was in some really heavy pain physically and mentally and had severe migraines. After going through several different modalities to mitigate the pain, I found a neuromuscular massage therapist that changed everything for me and helped me manage and eventually get rid of the pain I was holding. I thought it was such an admirable thing to be able to help someone in pain and see the difference first hand on how that can change someone's life. I researched a ton and with always having a love for human anatomy and science it just made sense…and here I am!
What training have you received and where?
I attended CIMT here in Colorado Springs and specialized Neuromuscular Massage Therapy. It will always be my first love.
After doing NMT for a few years I found Ashiatsu through being a client at Camino! I fell head over heels and went straight to Denver to learn!! I was originally trained through Deep Feet. After practicing for several years I took training through The Center for Barefoot Massage! I've taken their fundamentals as well as the Range of Motion courses. Ashiatsu has been a game changer!! Currently working on a few other super fun trainings that I can't wait to share! Stay tuned!!
What would you say your 'specialty' is when it comes to massage?
When it comes to where my heart is, Mama care is my absolute favorite. I love Prenatal and Postnatal care so much. I'm a huge woman's health advocate. I feel that those particular times in a woman's life are so vital and it means everything to have all the support. As a mama myself, I can relate to the ebb and flows of the process. It's just so beautiful. During pregnancy a woman deserves to have the care she needs and not be treated as though she is fragile but rather as the powerhouse she is. Pregnancy brings so much admirable strength. With postpartum, a woman should celebrated and nurtured for everything her body has endured, allowing the cup to fill to be able to give as it all starts with her. Self care is just that. Mama care is not selfish, it's an absolute necessity!
Aside from that, I also really love movement and how it correlates to everyday life and how we can make that better. Keep you posted on more of that soon.
What first drew you to learn Ashiatsu? What do you love most about it now?
Getting a massage at Camino Massage Therapy! I was a client first!
I love to be able to provide deep, broad pressure unlike anything else. I am still to this day blown away by how quickly it calms the nervous system down. We all need a little bit of that!
What keeps you coming back to massage?
I love people. I love helping people. I love mapping out pain. I am an absolute anatomy and science nerd. I love researching and growing. Massage allows me to do it all and I couldn't be more grateful for that!
What sets Camino apart from other massage businesses you've worked at in the past?
The passion of not only myself by those around me. I love working with other therapists that are just as determined to master their skills and continue to want to better themselves. It humbling, really and so very inspirational. Not to mention my boss is a pretty rad lady 😉
Anything else you'd like to share about your massage practice?
I just love what I do and I can't wait to continue my journey and grow!
We hope you enjoyed getting to know a little more about Ryan! Book a massage with her today.