Jaimee Schaefer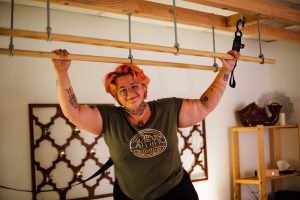 How long have you been practicing massage?
I started massage school in October of 2011, so just under 10 years now!
How long have you been massaging at Camino?
I joined the team in December of 2017, and it's been the best decision of my life.
What first drew you to becoming a massage therapist?
I thought initially it would be a fun career while I figured out what I really wanted to do after high school. And the more clients I work on, and the further into school I went the more I realized that this was it for me.
What training have you received and where?
I'm trained in Swedish massage, Nueromuscluar/Trigger Point therapy, Thai massage, Ashiatsu, Hot Stone, Prenatal.
Most of my training I received at Colorado Institute of Massage Therapy. And the rest I learned here at Camino.
What would you say your 'specialty' is when it comes to massage?
Neck and shoulders are my specialty I think. That or hips/low back.
I tend to use the routines for Nueromuscluar work in most of my hands on massages. That tends to be a bit more specific, and detailed work. I always feel I can do the most beneficial work when I'm focused in on the attachment and then address the muscle belly/ or trigger point.
What first drew you to learn Ashiatsu? What do you love most about it now?
The pressure. It was the pressure I always craved in sessions. And then as a therapist I really love that I don't have to destroy my body to give someone that pressure. Working with Gravity instead of against it, game changer.
They always told us the life span of a good deep massage therapist would be 10 year maybe 15 with good body mechanics. I like that I can keep doing this, without pain.
What keeps you coming back to massage?
The clients. The healing. No job has ever brought me as much joy, and peace. I like that almost daily I can help to change someone's live and be a therapeutic healer
What sets Camino apart from other massage businesses you've worked at in the past?
I think it really has to be the way I'm treated as a therapist, my needs are always being considered. And that makes me want to come here and do my best, give my all.
I also really like the way the schedule is, especially in these covid times, there's plenty of time in between each session to clean the room throughly and decompress before your next client comes. So you can give all your attention to every client who comes through the door.
Anything else you'd like to share about your massage practice?
I love my job, it never actually feels like work.
I'm hungry to learn more, and bring more to the table. (No pun intended)
We hope you enjoyed getting to know a little more about Jaimee! Book a massage with her today.