Our Camino Colorado Springs Massage Therapist cameo this month is on our incredible Founder/ Owner/ Therapist Erin. We asked her some questions to help our clientele get to know her a little better. Here's what she had to share:
Colorado Springs Massage Therapist Erin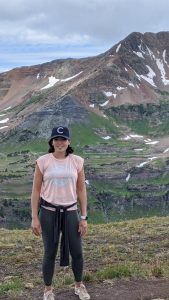 Tell me about your pets/family?
I'm married to Justin. We just celebrated 7yrs in August. We have one very special 3 year old named Norah Luna. Our family is picking up our new puppy Ringo today! We are so excited!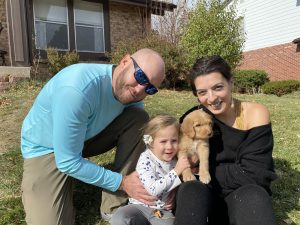 What do you love about being a massage therapist?
So many things!
I love providing a space for people to rest and feel cared for. I love feeling the change of the muscle tissue and the change in the clients energy. I love seeing the clients Looking totally blissed out after their session. I love that the longer I do this the more I want to learn and thankful there is ALWAYS more to learn.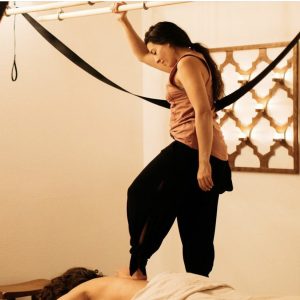 Types of clients you love to work with?
So many!
Busy professionals that need stress and pain relief, parents that's need care, retired men and women that want their bodies to keep up with all the things that want todo. People that work out a lot or have really dense muscle tissue. Barefoot massage is perfect for them.
Specializations if you have them and why you love them?
Barefoot massage!! It's really the best! I practiced hands on massage for 9 years before I found that feet were simply a better tool. I've been using my feet for 10 years now. If you schedule with me I'm using my feet. I also love incorporating cupping, stretching and mobility.
Hobbies?
I should probably get some of those 😉
love growing and running Camino so it takes most of my brain space and time but when I'm not focused on Camino I love exploring colorado with my little family.
I really value learning so I listen to podcasts and books and do a lot of continuing education.
Travel destination wish spot?
Fiji
What does self care look like for you?
Slow mornings, coffee loaded with lots of good for me things, cooking a beautiful yummy dinner while drinking wine with my husband, hot springs, hiking, laying in the grass with my daughter, sitting in the sauna listening to a good book & having coffee with my favorite women.
Thank you Erin for taking the time to share some of your life with us and the community!
Is there anything else you'd like to know about this month's featured Colorado Springs massage therapist?  Let us know in a comment below!