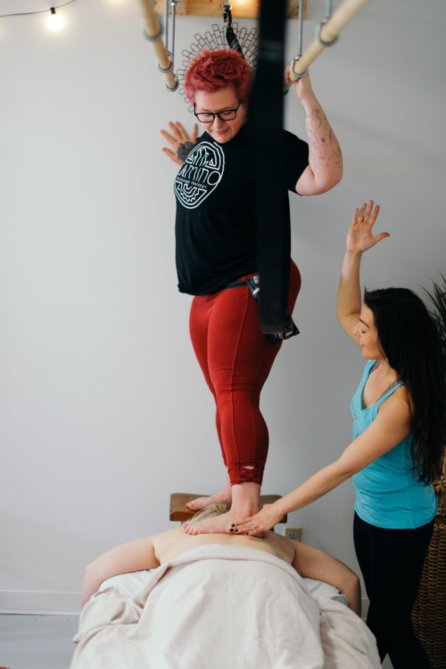 OUR BAREFOOT MASSAGE TRAINING
Camino Massage is proud to offer ashiatsu barefoot massage training right here in Colorado Springs. We train licensed massage therapists in this deeply therapeutic myofascial massage technique, enabling them to advance their knowledge and expand their practice. Our training classes provide therapists with the tools and knowledge they need to begin offering this service and become confident practitioners in myofascial ashiatsu or "FasciAshi". 
GET TO KNOW FASCIASHI
FasciAshi is a revolutionary type of barefoot massage training that we are offering exclusively to Licensed Massage Therapists. These classes teach therapists to massage with their feet to access deep tissues, facilitate myofascial and trigger point release, and improve range of motion. Participants learn how to use their bodies more efficiently and effectively to treat clients suffering from both chronic and acute pain.
FasciAshi is an intuitive technique where you will learn to use your feet as instinctively as you use your hands. Don't expect to learn cookie-cutter strokes or sequencing in these classes! We'll explore techniques that will help you provide the deep releases your clients need without hurting yourself. The practice includes the use of overhead support bars and Ashi-Straps to help you control your flow, balance, and pressure.
Barefoot Massage Training Classes
Camino Massage currently offers four different barefoot massage training classes: 
FasciAshi Fundamentals

FasciAshi Intermediate

Fijian Barefoot Massage

Hot Ashi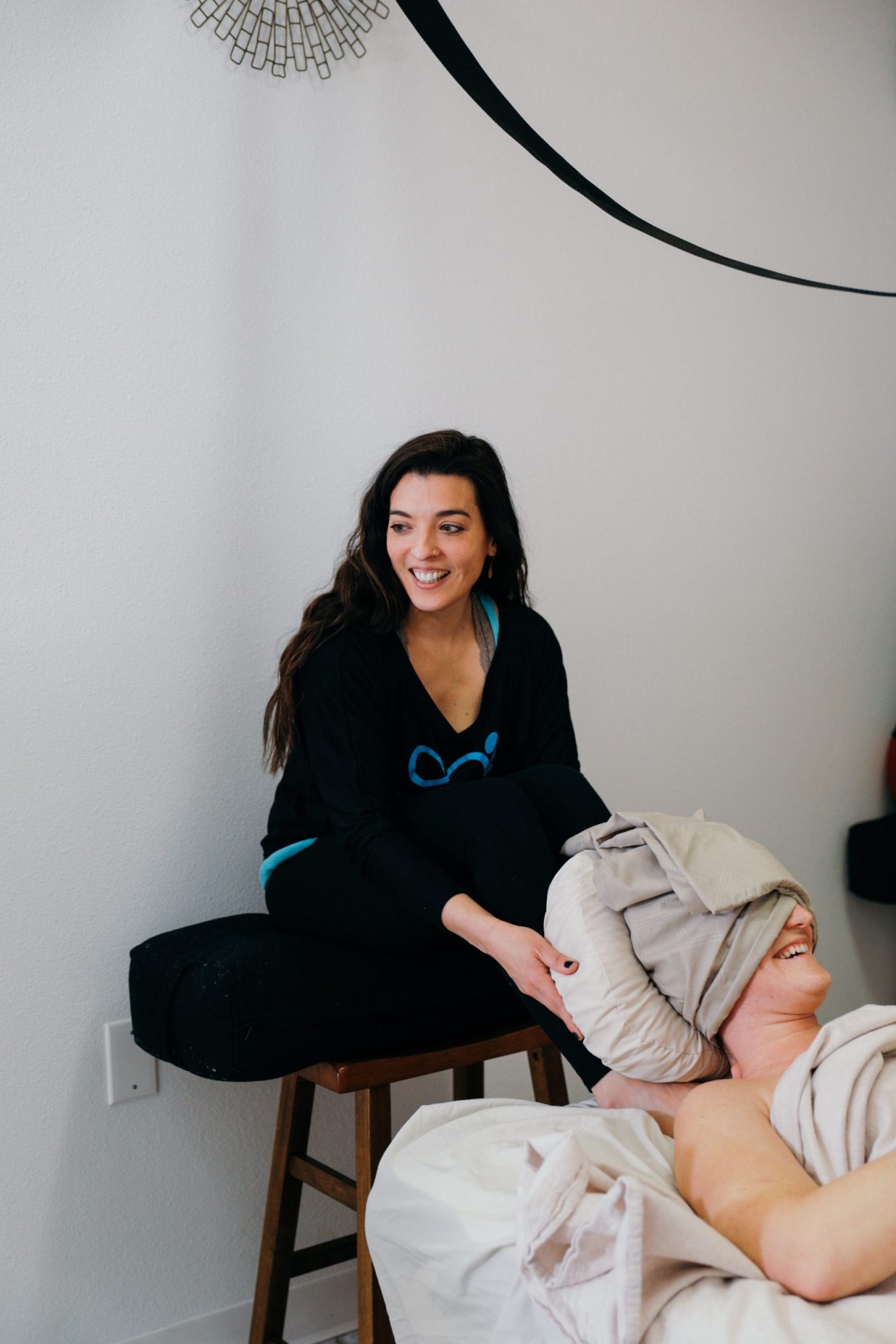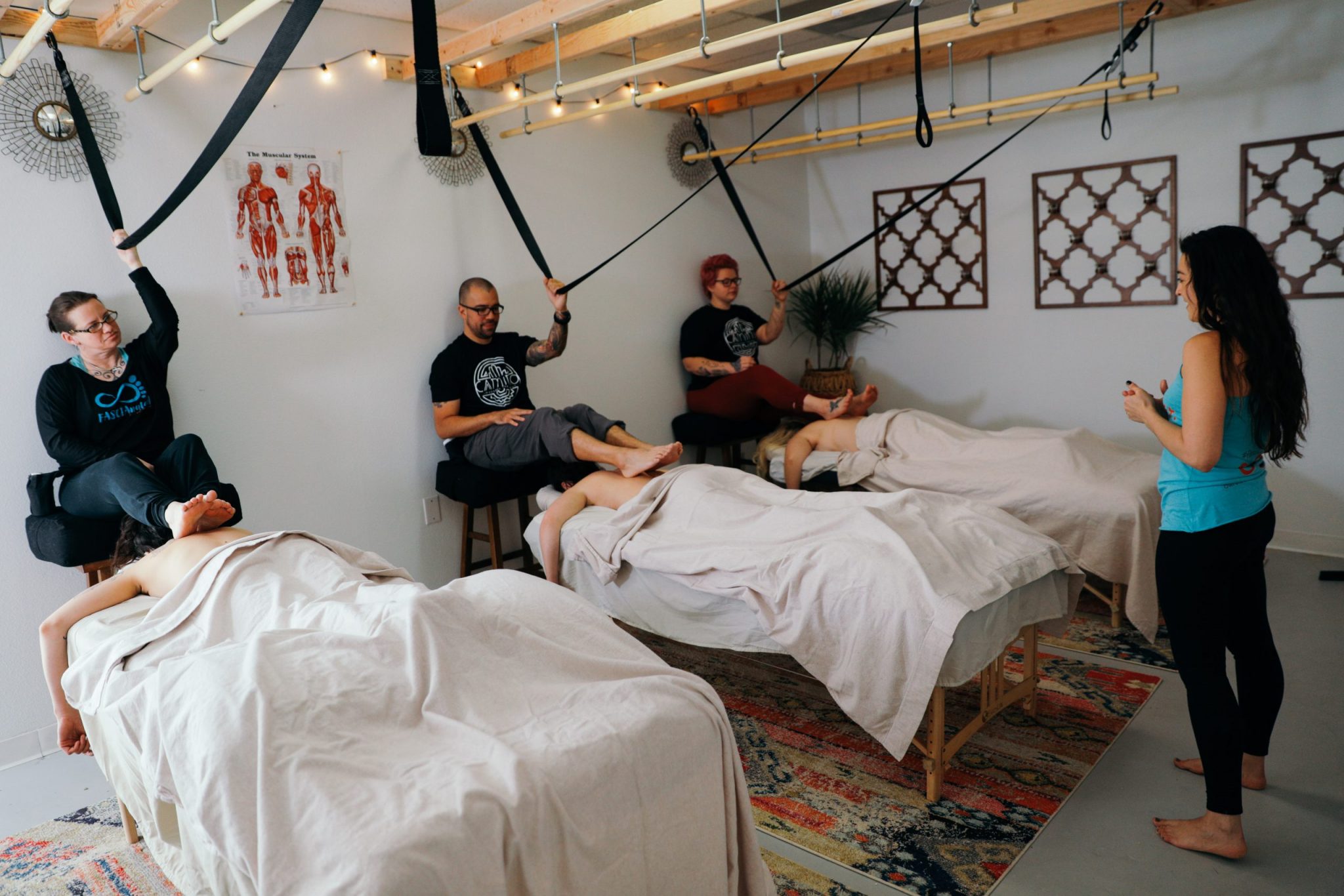 FASCIASHI FUNDAMENTALS
This is the starting point in your FasciAshi training. This beginner ashiatsu barefoot massage training will teach you how to use your feet to provide full body deep tissue, myofascial release, and trigger point work. Learn how to use your own body weight and gravity to apply consistent, effective pressure on the client's body through your feet. Training includes work on prone and supine clients.
No prerequisite needed other than you must be a licensed massage therapist.
FASCIASHI INTERMEDIATE
This intermediate barefoot massage training expands on the Fundamentals course, empowering therapists to work even slower. We'll learn how to maintain long, sustained pressure holds on trigger points and adhered layers of tissue and deliver deep myofascial strokes to the anterior and lateral aspects of the client's body.
Supine and side-body strokes add to your barefoot practice giving you the tools and ability to access forgotten and hard-to-reach areas of the body. We'll learn how to work with the topography of our client's bodies to manipulate the length of each muscle and fascial chain. We will learn how to use the Ashi-Strap and overhead bar to work on variable angles and vectors with consistent, controllable pressure that prevents fatigue for the massage therapist.
Prerequisites: Fundamentals or previous live Ashiatsu training.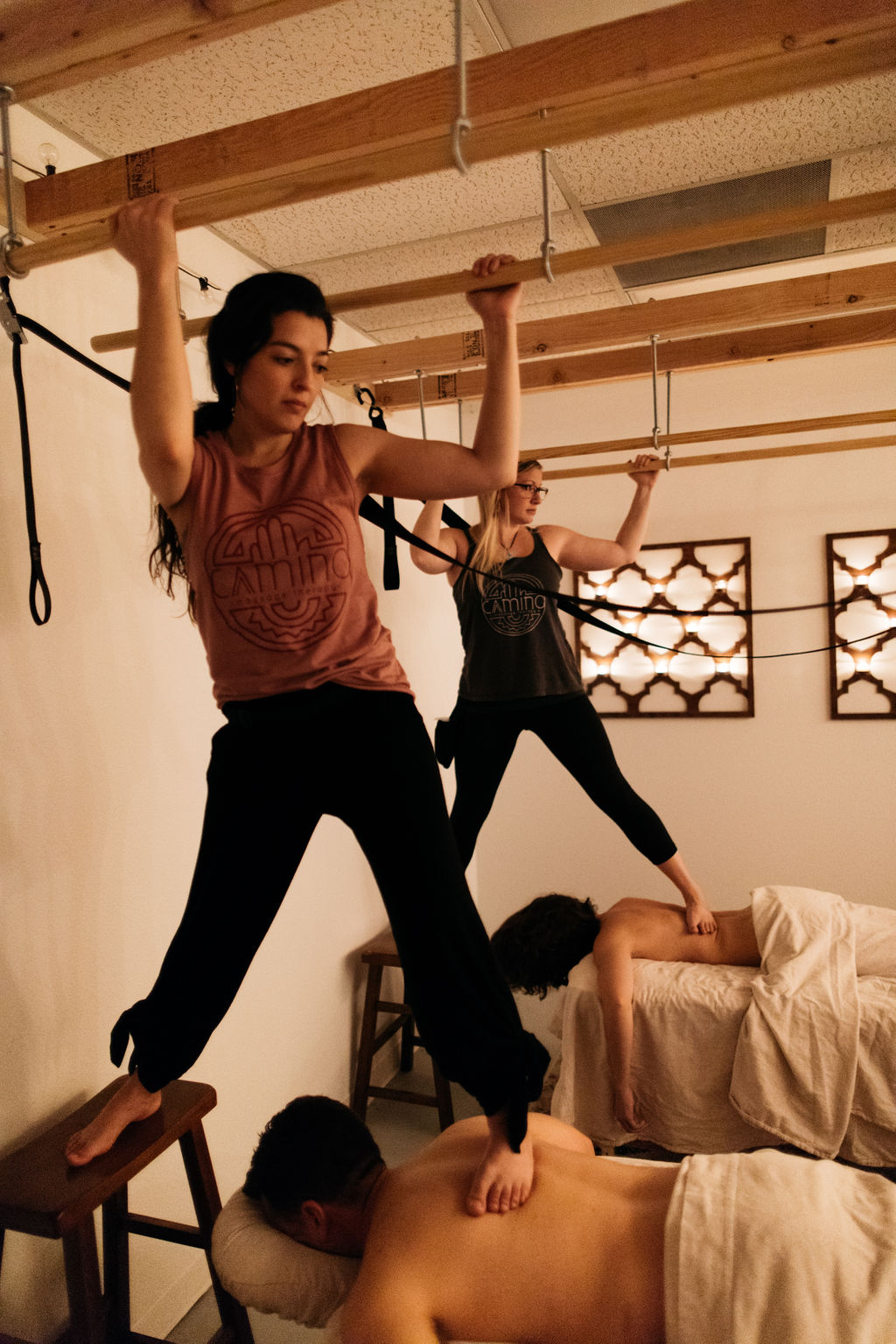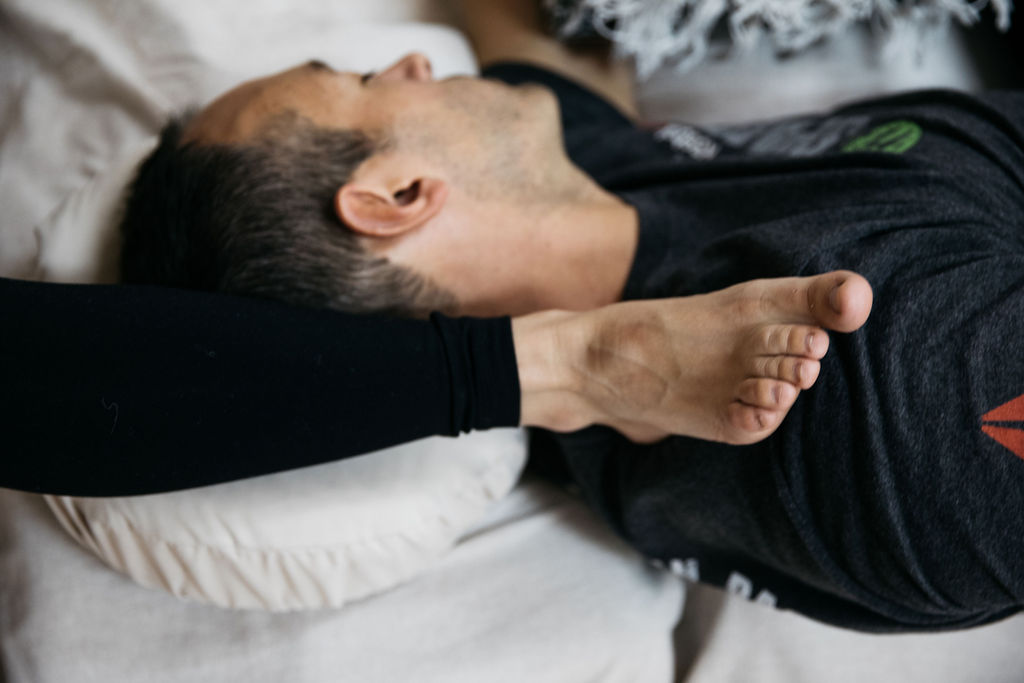 HOT ASHI
This "Relax Track" specialized course uses heated flaxseed pillows along with specific barefoot massage training techniques. Hot Ashi is performed on clients in both supine and prone positions while they are fully clothed on a massage table. We will use the overhead bars and Ashi-Strap for balance and shearing.
The addition of heat to barefoot massage helps further relieve aches and pains while promoting relaxation. It is a non-invasive, non-addictive, and inexpensive addition to any massage service.
Prerequisites: FasciAshi Fundamentals Certification
FIJIAN BAREFOOT MASSAGE
Fijian barefoot massage was brought to the United States Lolita Knight who adapted the technique from the islands of Fiji and New Zealand. This type of barefoot massage training takes place on the floor mat with the client fully clothed. The approach utilizes specific movements of deep pressure followed by vigorous jostling to the larger muscle groups. We will learn to use our toes and the bony aspects of our feet to create simple and rhythmic strokes. Rather than using an overhead bar, we may sit on the floor or a chair while treating the client. The Ashi-Strap, a chair, or other tools like a bamboo staff may be used to provide balance. 
No prerequisite needed other than you must be a licensed massage therapist.